BaziLite (S60) is our first metaphysics software for mobile phones that support the "Symbian OS S60 3rd Edition" platform.

BaziLite (S60) automates the plotting of Bazi or Four Pillars of Destiny chart (子平八字命盤 zi ping bazi ming pan) on their mobile phones; and display the results in a user-friendly way.

Plotting Bazi chart is now as simple as taking a call on your phone!
Tentative Features (subjected to changes)
Unique character/element symbols for easier interpretation
Luck Pillars - 10-Years, Yearly, Monthly & Day chart
Basic/Common Symbolic Stars
12 Life Stages
10 Gods/Deities
Date Input - Standard, Chinese Lunar Date, Direct BAZI
Clashes & Combinations (Heavenly Stem & Earthly Branch)
SYMBIAN S60 3rd Edition
5-way navigation key
~888KB RAM on phone memory or memory card
Tested models

NOKIA
N81 8GB, N82, N95, N95 8GB
6110 Navigator, 6120
E51, E52, E66, E71

Please feedback the models that has been tested to work well so that we can include them here.

Supported specification-compatible models (untested)
Click here for all supported NOKIA models
Click here for all S60 3rd Edition models (Samsung, LG, Nokia, etc)



(DEMO VERSION)

(Demo works in 2009 only)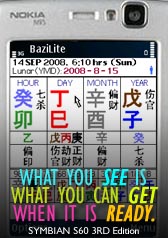 All our Symbian S60 titles, including BaziLite (S60) is uniquely designed to fit into the different screen size of supported phone models without distoring the screen layout. Users can expect the same quality and 'feel' like our titles for other devices.
Development of BaziLite (S60) has stopped as we're working to complete BaziCalc (S60) soon. BaziLite (S60) is now a DEMO copy where you can request for a copy to test whether it is compatible with your phone device. If you can install and run BaziLite (S60), it means there should not be any issue running our other official Symbian S60 titles.
Just send an email to us at info@meganworx.com, together with:
the brand and model of your mobile phone
brief details about yourself